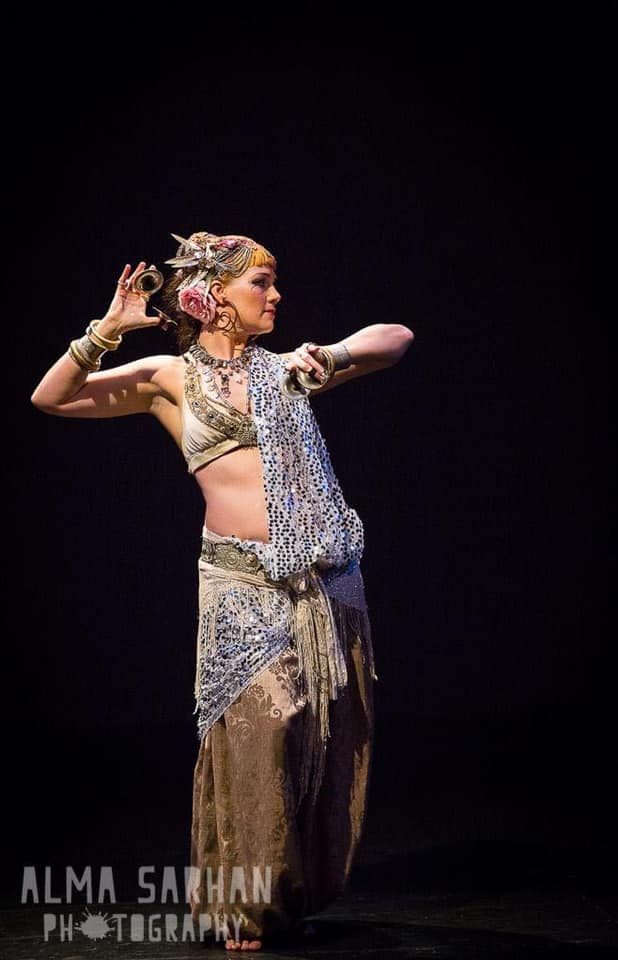 Cristie Fuller
Troupe member, teacher
Cristie Fuller has been a passionate Modern Fusion Bellydancer since 2002 under the tuition of Devi Mamak and is a member the professional troupe, Caravan Dance Company (formerly Ghawazi Caravan).
Along with intensive training and performing with Devi, Cristie has studied with Carolena Nerricio, director of FatChance Bellydance including traveling to the Fat Chance Belly Dance studio, San Fransisco in 2004 and 2011 and completing the General Skills Certificate with Carolena in 2007. She has taken workshops with Jill Parker, Rachel Brice, Zoe Jakes and many other local and international dancers.
Cristie has performed extensively, loving to dance at both small parties and large events such as festivals and stage shows.
Between 2012 and 2017, Cristie taught FCBD Style and Fusion at Amera's Palace Marrickville on Monday nights and directed the troupe, 'Oreades Tribal Bellydance', a sister-student troupe of Caravan Dance Company.
Cristie was the dancer in the group 'Bohemia' with Ali Higson on Darabuka and Alex Norman on Clarinet. They presented comissioned performances at The Rocks as well as corporate and private gigs.
After taking part in Devi Mamak's teacher training program in 2008/09, and 2013, she was a relief teacher of Devi's regular classes. She performed and conducted workshops at festivals such as Peat's Ridge and Playground Weekender music festivals plus Tribal & Trance Fest, Sydney Middle Eastern Bellydance Festival and Western Australia Middle Eastern Bellydance Festival in Perth.
Her teaching focus is clear, concise break down of moves, prioritising technique and posture and how they relate to group improvisation and sharing the excitement and fun of dancing.
Cristie Fuller Interview
What appeals to you about Modern Fusion Bellydance (Tribal)?
I love the idea of improvisation. This format of strong, defined movements, cues and communication between dancers – discipline mixed with spontaneity – is magical to dance and to watch. As with many art forms, it is the boundaries or rules of the medium that produce the most creative and satisfying results.
 'Tribal', in particular, is not just a style but a mindset. Everybody in our group wants to progress for personal reasons but equally for the good of the group which is a very special thing. …. And I really love the costumes.
If Modern Fusion is your current passion, what was your previous passion?
Drawing, designing and sewing clothes. I studied fashion design and for much of my life before dance, that was a great passion. Dressing up continues to be!
Other than dance, what is your life like? Mostly parenting my young child, which is a great joy. For work, I design websites… like this one!