'Birds of Paradise' 2012
was the most recent installment in Devi Mamak and Ghawazi Caravan's, 'The Intertwine Project'.
The sold-out show was held on December 1st 2012 at the performance space of the Blacktown Arts Centre, thanks to an arts development grant. 
Birds of Paradise featured some amazingly fun and creative collaborations with Hands Heart and Feet, King Parrot Bloco de Samba, Bronwyn Kirkpatrick, Mirium Leiberman and the percussionists of Ghawazi Caravan!
Devi and Ghawazi challenged themselves with pieces such as Samba fusion, Raqs Sagat (zill dance), a Manton shawl dance to the breathtaking voice of Mirium and drumming for the Men's Dance, performed by the male percussionists of Hands Heart and Feet.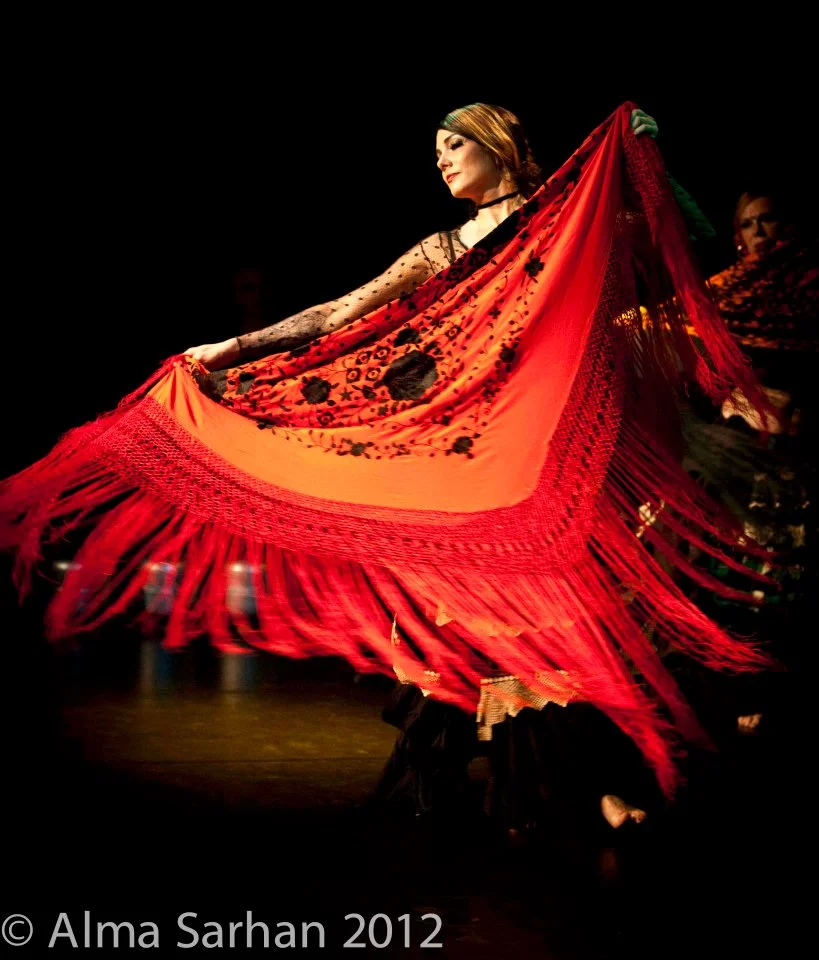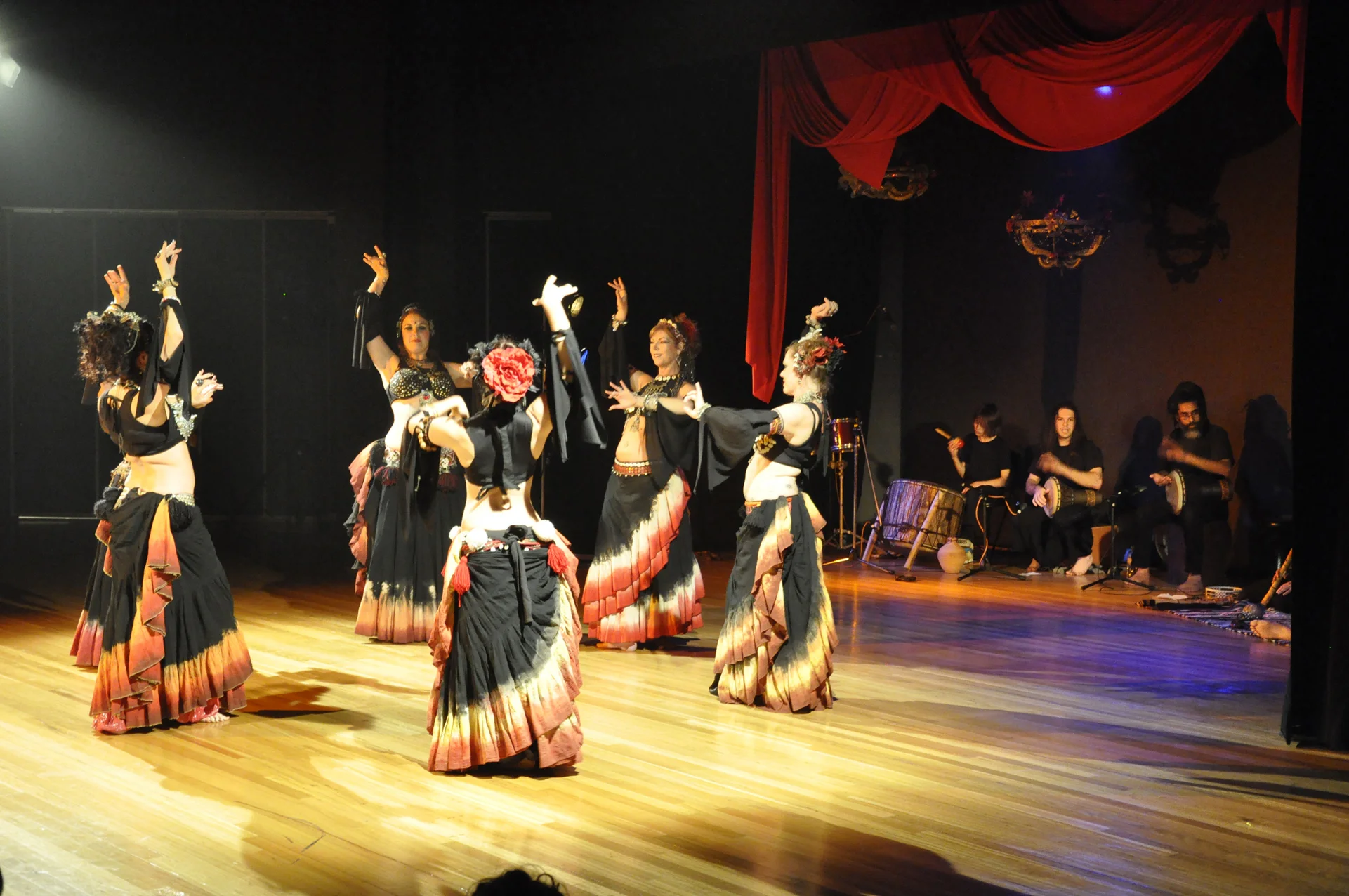 What is the Intertwine Project?
Devi Mamak's idea is to draw together dancers, musicians and artists of varied disciplines and styles, braiding their talents together into a compelling and cohesive whole and to present the result in a theatre style environment.
The goal is to create beautiful dance productions combining the talents of our friends in ways that may never have happened before, changing and developing over time.
As American Tribal Style belly dance is a contemporary fusion dance style that seamlessly blends varied ancient and modern traditions, the music created for 'Intertwine' meshes instruments such as the Shakuhachi (Japanese flute), the Sitar and Middle Eastern percussion instruments in an unusual and beautiful way.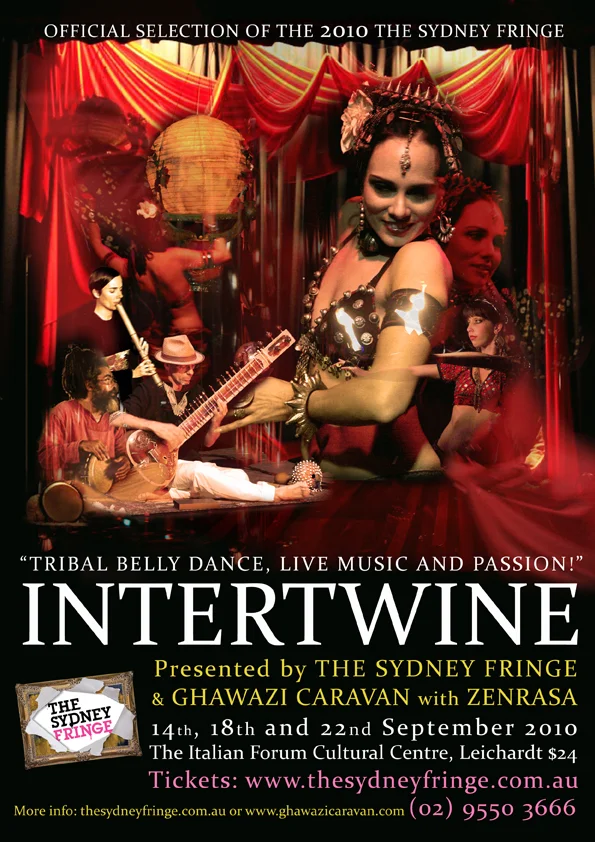 Intertwine was first presented at the Carrington Hotel, Katoomba,  in conjunction with Winter Magic Month 2009.
Later in 2009, the project received aCultural Partnerships grant from the Blue Mountains City Council to present two more shows at The Wentworth Falls School of Arts.
After this, the musicians formed a more cohesive band and called themselves ZenRasa.
In 2010, Intertwine was reworked to be consist completely of live music and became an official selection of The Sydney Fringe 2010, with three successful shows staged at The Italian Forum Cultural Centre, Leichardt. Intertwine was concidered one of the most succesful shows at The Sydney Fringe and was nominated for the 'Avant-Card – Bodies in Space' Award.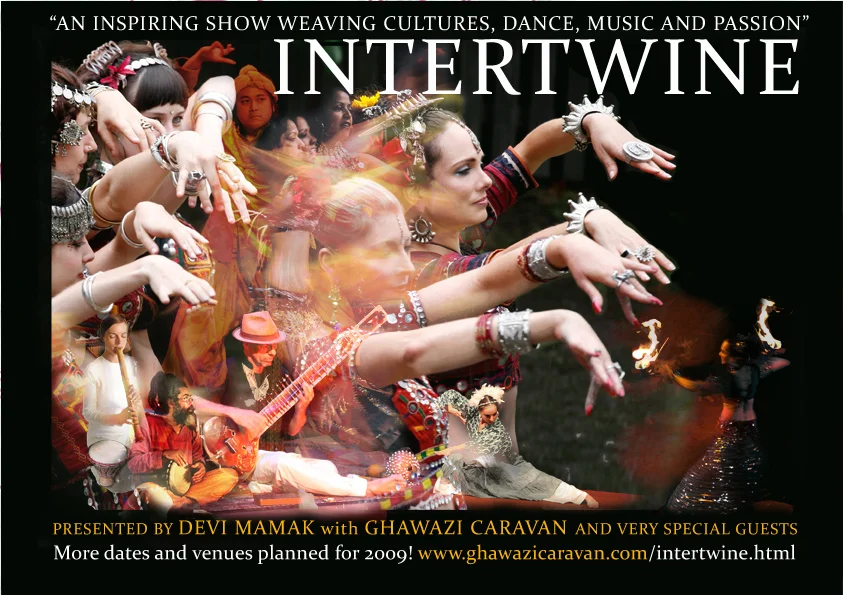 Media release for Intertwine at
The Sydney Fringe:
Continents away from the original cultures that inspire them, Ghawazi Caravan are taking artistic license; transforming ancient practices to bring delight and mystery in a dynamic dance production that intertwines cultural traditions and an irrepressible creative spirit.
With beautiful fusions of the Occidental and Oriental, these Tribal Bellydancers blend Middle-Eastern, Flamenco, classical Indian, North and West African dance… and their own dramatic vision.
Intertwine has a complete musical score by the acclaimed musicians of ZenRasa, who create a unique sound and style. They draw upon musical traditions and instrumentation of the Middle East, Japan, India, and Africa. With the spirit of respect for the original art forms, they take a creative and innovative approach to fusion, making a unique cross-cultural performance experience. Yalla!
Some feedback from previous shows:
"I was blown away by Intertwine's adventurous and borderless creativity. Visually stunning, it presented a symbiotic relationship of dance and music." – Jill Day, local dancer and actor.

"Of course the compelling Ghawazi Caravan had the audience mesmerised! I thought it was a highly professional, theatrical dance event, full of joy, colour and delight." – Cathie Gorman, dancer and teacher.

"Intertwine was a feast for the senses – exotic rhythms, sensual dance, dynamic performers." – Deb Hill, musician.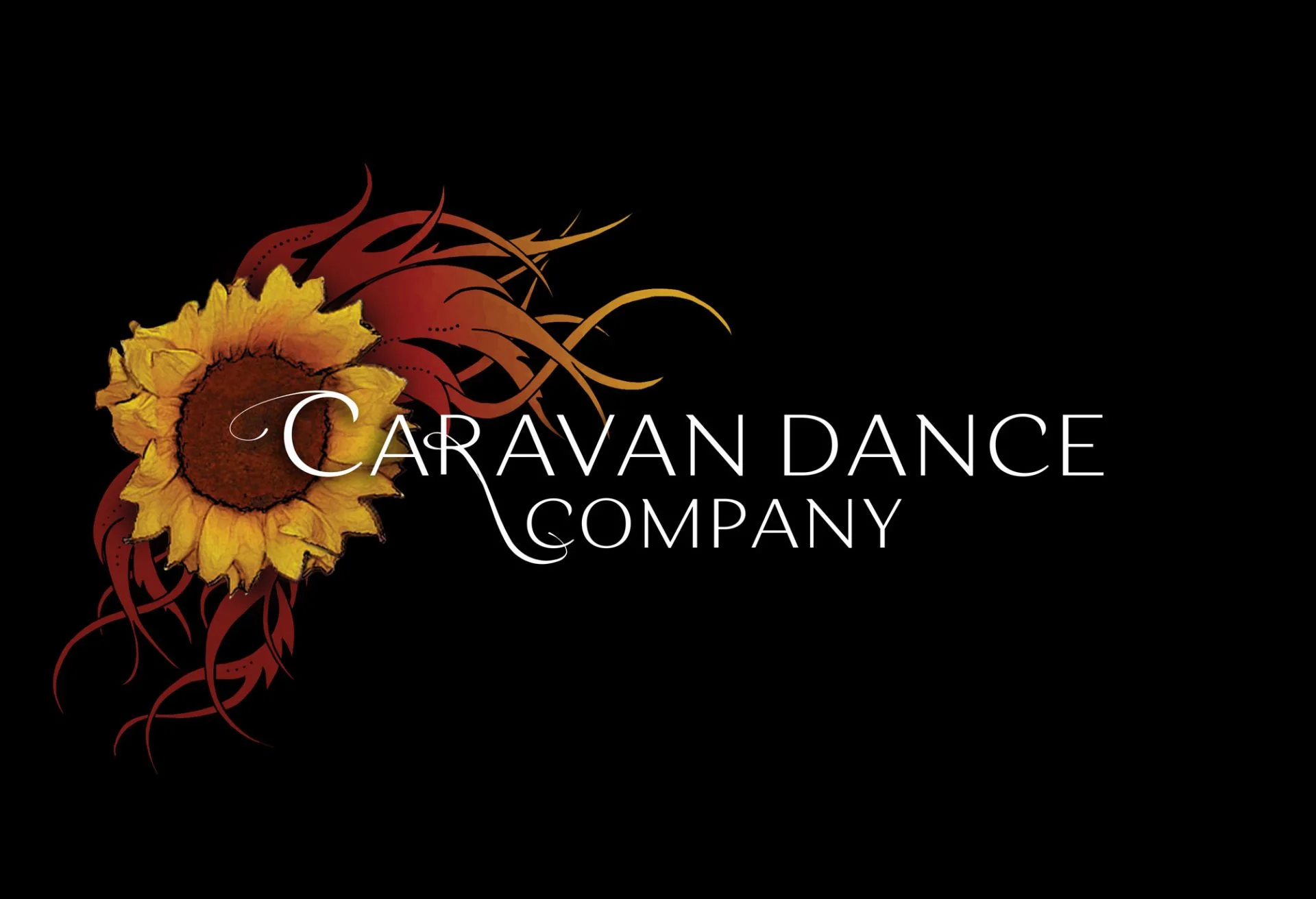 We acknowledge the Traditional Custodians of the land on which we live and dance, the Darug and Gundungurra peoples, their Elders past, present and emerging.